Enter details
Payment
Complete!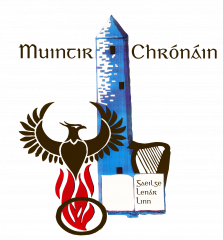 Membership - Ballraíocht
Is é Áras Chrónáin Ionad Cultúir lárionad Mhuintir Chrónáin. Is áit sainiúil í ina mbaineann idir óg agus aosta ó gach aicme spraoi is taitneamh as Cultúir Beo na Tíre; an Ghaeilge, an Ceol, Amhráin agus Rincí bríomhara i gcomhluadar Gaelach. Is teach iontach den 19ú aois é Áras Chrónáin Ionad Cultúir atá suite ar 2.9 acra i gceartlár Chluain Dolcáin.
Áras Chrónáin Irish Cultural Centre is the headquarters and owned by Muintir Chrónáin. It is a unique oasis of vibrant Irish Language, Music, Song, Dance and Culture experienced and enjoyed by young and old from every walk of life. Áras Chrónáin Ionad Cultúir is a magnificent Georgian house on 2.9 acres in wonderful picturesque surroundings right in the heart of old Clondalkin village.
MUINTIR CHRÓNÁIN
'Sé mana Mhuintir Chrónáin ná "Gaeilge Lenár Linn". Bíonn pobail Mhuintir Chrónáin ag forbairt agus ag cur chun cinn Teanga (in atmaisféar taitneamhach spraoiúl), Ceol, Cultúr agus Oidhreacht na hÉireann trí imeachtaí sóisialta agus oideachasúla a eagrú agus feidhmiú Áras Chrónáin Ionad Cultúir.
The motto/slogan of Muintir Chrónáin is "Gaeilge Lenár Linn" - "Irish in Our Time". The members, community and people of Muintir Chrónáin promote and develop the Language (in an enjoyable fun atmosphere) , Music, Culture, and Heritage of Ireland through organising social, educational events and Áras Chrónáin Ionad Cultúir.
TACAÍOCHT agus RANNPHÁIRTÍOCHT- SUPPORT & PARTICIPATION
Is de bharr tacaíocht agus rannpháirtíocht cairde agus baill a bhfuil rath ar mhór obair Mhuintir Chrónáin. Tá ballraíocht oscailte agus cuirtear fáilte roimh ball nua i gcónaí. Cuidíonn rannpháirtíocht agus síntiús ballraíochta le eagrú, le feidhmiú, le forbairt agus le fad saoil Áras Chrónáin Ionad Cultúir.
The support and participation of friends and members is what makes Muintir Chrónáin so strong and successful. Membership is open and new members are always welcome. Active participation and membership subscriptions help support the organising, running, development and survival of Áras Chrónáin Ionad Cultúir.
Your Items
Item
Price
Qty
Subtotal
There are no items currently in your basket

Total

€0.00