Enter details
Payment
Complete!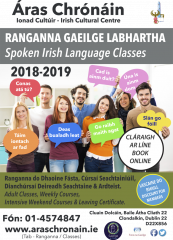 Ranganna Gaeilge Labhartha - Spoken Irish Classes 2018-2019
Atmaisféar taitneamhach le cuidiú lea feabhar a chru ar do chuid Gaeilge
Enjoyable atmosphere aimed at giving you the confidence to improve your Spoken Irish
Oíche Chéadaoin - Wednesday Eveings 8.00-9.30p.m.
Téarma / Term 2 - Tosú / Start 30/01/2019 (10 Weeks) - Críoch / Finish 10/04/2019
Why Spoken Irish Classes in Áras Chrónáin Ionad Cultúir:
27 years of Classes Experience
Excellent Value for money
All Levels - From Beginners to Advanced
Free Access to Supervised weekly converstaion group (Ciorcal Comhrá 7.00-8.00p. Oíche Chéadaoin)
Free Access to monthly Lón as Gaeilge with Gaeilgeoirí Chluain Dolcáin
Discounts on all Dianchúrsaí Gaeilge Deireadh Seachtain / Intensive Spoken Irish Weekend Courses during the year orgainsed by Muintir Chrónáin
It is our aim to help you and to give you the confidence to improve your Gaeilge and to speak it.
We have six different levels of classes on offer to ensure that each pupil is at a level that suits him/her.
Step 1 - Select what term(s) you wish to register for and 'Add to shopping cart'
Step 2 - Click 'Checkout' and proceed to 'Enter details' (please enter name as on debit/credit card) and now select your 'Leibhéal Gaeilge Labhartha-Level of Spoke Irish'. Finally 'Ainm Dalta - Pupils Name' MUST be enterd at the bottom. Please complete in full.
If you are a current Member of Muintir Chrónáin please contact the office for YOUR special DISCOUNT CODE
Step 3 - Click 'Next' and enter you payment details
Step 4 - Complete. You will receive an email confirming your registration. Please bring this email/barcode along to your first night of class at Áras Chrónáin Ionad Cultúir.
You will be contacted with your class day and time prior to the first class.
Your Items
Item
Price
Qty
Subtotal
There are no items currently in your basket

Total

€0.00